By Khali Henderson
Our 12th WiCConnect Networking event at Channel Partners Evolution in Washington D.C. was cause for celebration and reflection about how far WiC has come since it was conceived in the nation's capital city six years ago. We've come a long way, baby!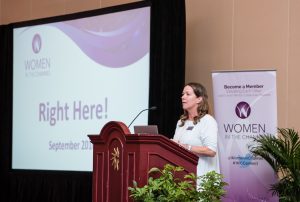 Our president Hilary Gadda shared many of WiC's milestones to a group of more than 100 women at the Gaylord National Harbor, the place where WiC's founders decided in 2010 that the channel needed a strong voice for women.
Make no mistake – today WiC is a strong voice for channel women and getting louder. We now have 300 members and counting. And, our members graced many stages at Channel Partners Evolution, including the main stage where the discussion was squarely focused on gender inequity in channel compensation.
Being in DC in an election year with the nation's first female presidential candidate was not lost on our many of our members. Regardless of our political affiliations, most recognize this as a significant milestone symbolic of the growing movement toward female empowerment and equality. A woman as leader of the free world is long overdue.
While few of us will run for president of the United States, we can do other things to empower women. At WiCConnect, we often focus on these strategies and tactics. In spring we invited our male colleagues to join us to discuss the business case for gender diversity. This fall, we invited female veterans to join us to learn about careers in the technology channel as part of a joint initiative with Channel Partners, BCM One and Women Veterans Interactive. This was a humbling and rewarding experience for many of our members, who met and mentored these amazing women throughout the DC event. The potential for this collaboration is huge – and we already are making plans to do it again at the Vegas event.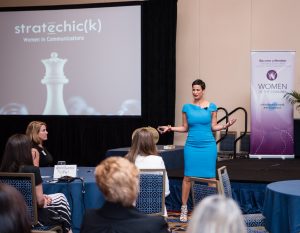 For WiC members (and women in general), helping others – our communities, our companies, our associations, our families, etc. – comes naturally. Helping ourselves? Not so much. But that's exactly what we need to do to lead our "best" lives. This, according to our straight talking and dynamic WiCConnect Keynote speaker Michele Thornton, SVP at BET and author of "Stratechic: Life and Career Winning Strategies for Women."
Thornton inspires women to use their innate strategic powers on themselves. A woman's strategy is not unlike a business' strategy, she said. "A woman's strategy is the game plan she creates and implements to compete successfully and fulfill her life's objectives," she said.
Among her many suggestions for taking control of our careers and lives is to spend an hour a day investing in ourselves. What could we do in that time? Thornton, as one example, wrote her book. Ultimately, she warned, without a plan, we are unlikely to reach our goal(s). And without the right sponsors around us, we also may struggle, she added, urging us to re-evaluate the people in our inner circles. Are they helping us reach our goals or not?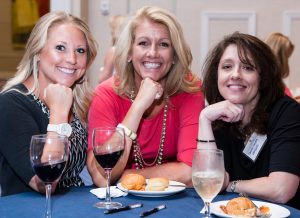 For its part, WIC has been an incredible support system and cheerleader for many of us. (Read the recent blogs from Hilary Gadda, Laura Bella and Angela Hefner as proof points.) WiCConnect DC was a reminder of that – hugs were the order of the day with friendships renewed and made anew. We come together with purpose and passion but also just to hang with our peeps.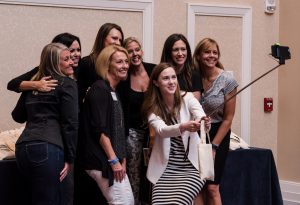 In signature style, WiCConnect was a fun event with cocktails, cupcakes and even dancing led by emcees Rebecca Rosen of Sales Enabled and Laura Bella of NetCarrier. So many women turned out that it seemed more like our flagship spring event — another reason to celebrate!
Of course, we couldn't put on a great event without our sponsors. We thank them for their generous and continued support. Diamond Sponsors: Channel Partners and Microcorp; Platinum Sponsors: AT&T Partner Exchange and Telarus; Gold Sponsors: Intelepeer, NaviSite, Spectrum Business, and Time Warner Cable Business Class; Silver Sponsors: Broadvoice, Fusion, GENBAND, iAgent Network, Mitel, NetCarrier, OnSIP, Rackspace, TelePacific Communications, Telstra, Unitas Global, Verizon, Vonage Business and Windstream.
MORE FROM WICCONNECT DC
Read Laura Bella's blog about her experience being the WiCConnect Emcee.
View Nancy Ridge's video recollection about founding WiC.
View our event photo album on Facebook.
ABOUT THE AUTHOR

Khali Henderson is senior partner at BuzzTheory Strategies, WiC Board Member and Chair of the PR Committee.
Photo Credit: Susie Soleimani Photography