Welcome to ACW Community Connect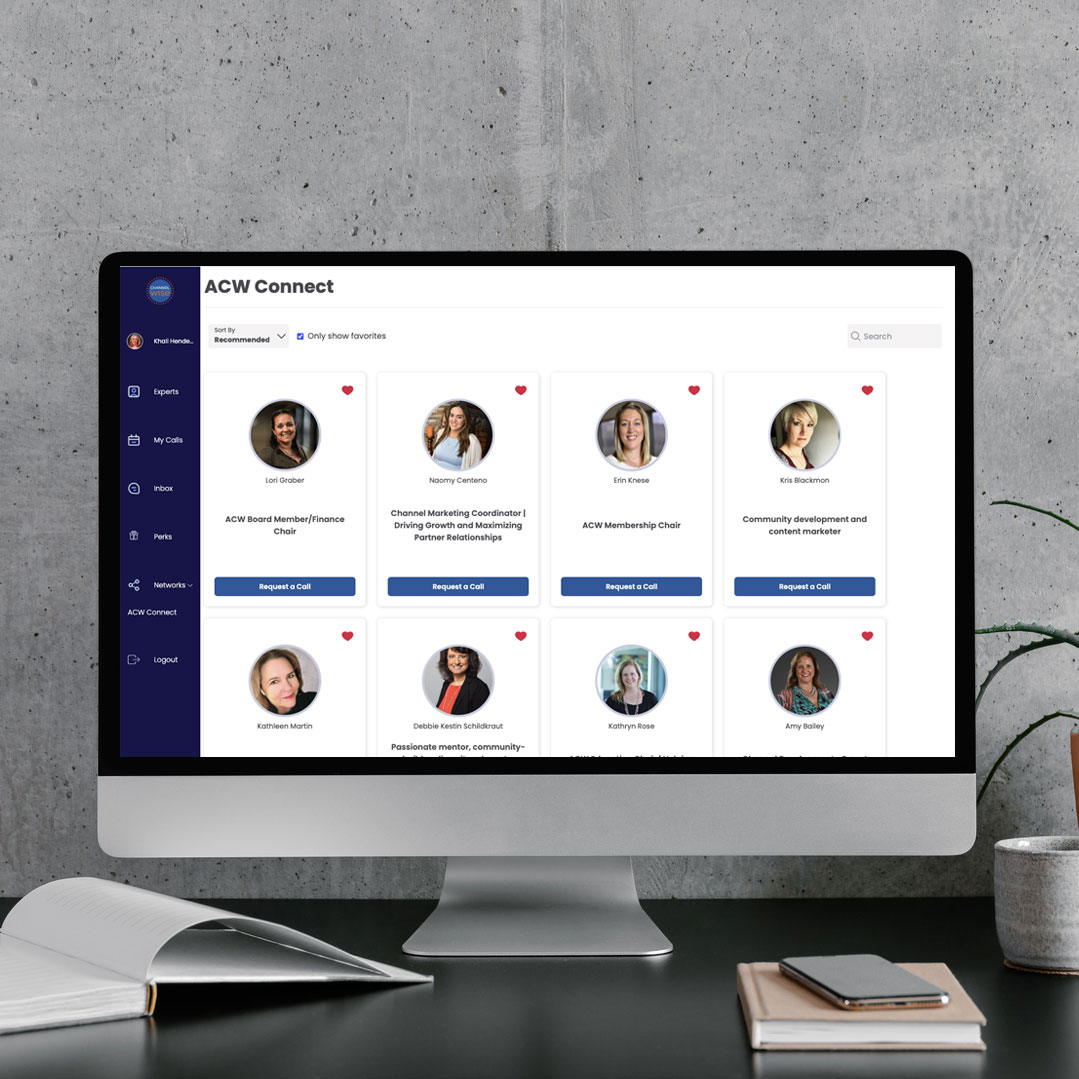 ACW Community Connect is a new initiative that empowers ACW members to connect one-on-one seamlessly for spot coaching, mentoring and networking.
ACW Community Connect is a private network inside the channelWise platform, which provides access to hundreds of channel experts to help organizations and individuals get on-demand business advice.
To participate, ACW members need only set up a profile to offer expertise and/or join the network to book calls with experts.
The expert you need is only a call away. Connect today!
How can I access it?
ACW members gain access to the ACW Community Connect platform through their ACW account, simply login to the Member Portal with you Member username and password and click join ACW Community Connect.
How to I get an ACW username and password?
You should have set this up when you joined ACW. To set it up now, click here: https://allianceofchannelwomen.org/login. Sign in with the email you used to register as an ACW member. If you don't remember your password, click "forgot password" and follow the instructions to reset it.
What are the steps to a complete profile?
Register for the site
Upload your picture
Create a headline and profile
Share your general availability
How do I deactivate my profile?
Find the "status" button on the top of the page across from your avatar. Click it and set your status as "inactive" in that network.
How can I sign up as just a member? (not available for calls)
You're welcome to sign up as a member for the community connect and not make yourself available to take calls. To do so, simply fill out your profile and DO NOT add your availability. Your name will not show up in searches, but you will be able to book calls with others in the community.
What is channelWise?
channelWise is the platform that houses ACW Community Connect. It's an on-demand expert marketplace that helps the channel ecosystem get the advice they need to accelerate their business or career growth. ACW Community Connect is a private "network" inside the channelWise platform exclusively for use by ACW members.
Is there a cost associated with use?
There is no cost to use the platform and complete calls with other ACW members. channelWise is generously sponsoring ACW Community Connect by providing the platform to us at no charge.
Is there a limit to the number of calls I can make?
No, there is no limit to the number of calls you can make. We encourage you to connect as often as you like to strengthen your relationships and get the advice you need to grow personally and professionally.
Are my discussions confidential?
All calls are recorded for compliance and quality assurance; however, the person who books the call is the only one who has access to the recording besides the channelWise team, again, for quality assurance.
How do I manage my profile?
Simply login and you will be directed to your profile dashboard.
How do I know who I should connect with?
Each member has a profile and a bio. Find people that match your interests and schedule a time with them for a virtual meeting to get advice on a specific topic. You can search by name and keywords. You also can favorite people and come back to them again and again!
Can I delete my profile?
Yes, you can delete your profile. Simply click on Account Info on the top navigation bar, scroll down and click delete my account.
Have a question not answered here? Get Involved with ACW Today!
Advance your career. Build your business. Create opportunities for channel women.