Author and Media Executive to share strategies for self-awareness, self-investment and more
SANTA ANA, Calif., July 12, 2016 – Women in the Channel (WiC), a not-for-profit organization dedicated to accelerating the growth of female channel leaders in technology, announced today that it will host its 12th WiCConnect Networking Event during the Channel Partner's Evolution Conference & Expo.  The WiCConnect event will be held from 5-8 p.m., Aug. 14, 2016, in Maryland 4-6B at the Gaylord National Resort & Convention Center in Washington, D.C.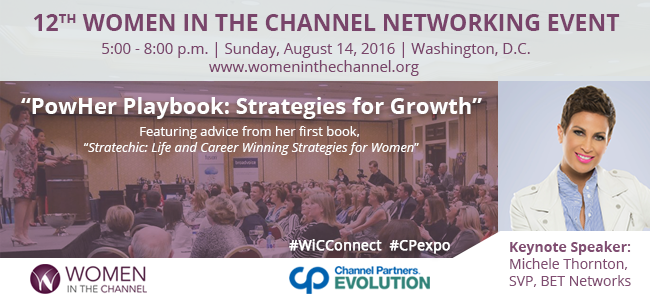 Guest speaker Michele Thornton, senior vice president of BET Networks, will deliver the keynote address, "PowHer Playbook: Strategies for Growth," featuring advice from her first book, "Stratechic: Life and Career Winning Strategies for Women." Thornton serves as the head of Television Sales for Centric TV and BET Soul and was instrumental in the rebranding of Centric as "The First Network Designed for Black Women."  Prior to BET, Thornton worked for CNN, HLN, CNN Airport Networks, CNN.com, A&E, The History Channel, and The Weather Channel.  Earlier in her career she spent three years at Pacific Bell and Pacific Telesis Group, which are now part of AT&T.
Thornton's keynote will highlight key strategies intended to help women live their BEST life, successfully. Major discussion points will include:
Self-awareness is non-negotiable
How to build and maintain the "right relationships"
The importance of "investing in yourself"
Asking for what you've earned
"We're delighted that we have the opportunity to host such a dynamic and successful author and business professional," said WiC President Hilary Gadda, director of the Telepartner program at TelePacific Communications. "We look forward to learning new strategies that can be implemented not only in our own organizations, but in our day-to-day lives."
The Women in the Channel Networking Event is open to all women attending the Channel Partner's Evolution Conference & Expo. Admission is FREE to all WiC members and $20 for non-members. To register for the event, please click here. To become a member, visit www.womeninthechannel.org.
Companies interested in sponsoring the event can find more information on the WiC website by clicking here. Current sponsors include Diamond Sponsors: Channel Partners and Microcorp; Platinum Sponsors: AT&T Partner Exchange and Telarus; Gold Sponsors: Intelepeer, NaviSite, Spectrum Business, and Time Warner Cable Business Class; Silver Sponsors: Broadvoice, Fusion, GENBAND, iAgent Network, Mitel, NetCarrier, OnSIP, Rackspace, TelePacific Communications, Telstra, Unitas Global, Verizon, Vonage Business and Windstream.
WiC's Channel Partners event planning committee includes Chair Raquel Wiley of TelePacific Communications, Laura Bella of NetCarrier, Monica Hopkins of Birch Communications, Morgan Granfield of Birch Communications, Su Beler of Telecom Brokers, along with WiC board members Bita Milanian of GENBAND, Helen Kidary of OnSIP, Hilary Gadda of TelePacific Communications, Khali Henderson of BuzzTheory Strategies, Nancy Ridge of Telecom Brokers and Rebecca Rosen of Sales Enabled.
About Women in the Channel (WiC)
Established in 2010, Women in the Channel is a grassroots organization made up of women who are in leadership, ownership and revenue-generating roles in the indirect sales channel of the telecommunications industry. Month after month, these women are responsible for generating sales for their companies and creating wealth for their families.  WiC members are wives and mothers and sisters, and a high percentage of us are the main breadwinners in our families. WiC brings together this group because in an industry that is growing, expanding and changing the number of women at such levels is not matching that growth.   To learn more and to become a member, please visit www.womeninthechannel.org.
Follow Women in the Channel:
Press Contacts: 
KHALI HENDERSON
khenderson@buzztheorystrategies.com
pr@womeninthechannel.org
480.999.5297
GINA KENNEDY-TONEY
gkennedy-toney@fusionconnect.com
404.313.0861