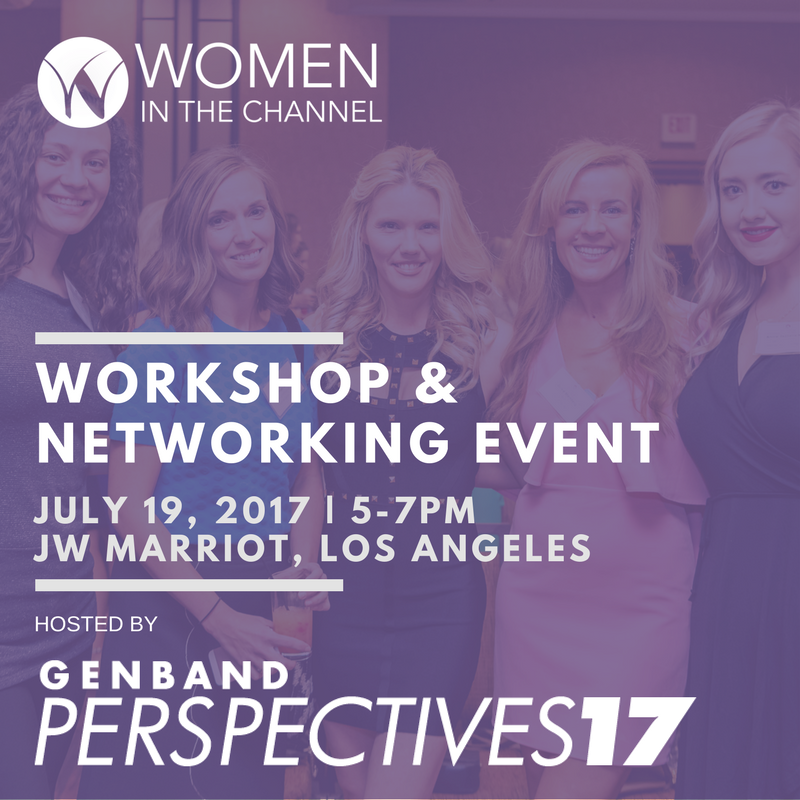 SANTA ANA, CA — Women in the Channel (WiC), a not-for-profit organization dedicated to accelerating the growth of female channel leaders in technology, today announced that it is participating at GENBAND™ Perspectives17 Annual Customer and Partner Summit, held July 16-20, 2017, at the JW Marriott Los Angeles L.A. LIVE. Perspectives17 brings together the brightest minds in the communications, software, service provider, channel partner and enterprise communities to share the latest trends, issues and opportunities affecting the communications landscape.
GENBAND will be hosting the Women in the Channel Networking Event & Workshop, Wednesday, July 19, from 5-7 pm in PLAZA II-III on the 3rd level of the conference side of the JW Marriott L.A. LIVE. The WiC-led session, "Confidence and Connections: Elevating Each Other," promises to show women in tech how to develop meaningful connections and build confidence they need to become leaders. Attendees also will have the opportunity to network and share their own stories during the cocktail event, which encourages interaction to making new connections.
"We are  excited to have Women in the Channel participate in Perspectives17," said Bita Milanian, senior vice president of global marketing at GENBAND. "As a former WiC board member, the organization holds a special place in my heart, and I am excited to introduce our attendees to WiC and its education and outreach programs."
"Our thanks go out to GENBAND for this amazing opportunity to talk to Women in Tech about how mentorship and sponsorship can fast-track their careers and help create connections and develop confidence," said WiC Founder Nancy Ridge, executive vice president, Telecom Brokers.
Attendees will have the opportunity to network and share their own stories during the breakfast event, which encourages interaction to maximize connections.
Perspectives17 includes a comprehensive agenda filled with activities and entertainment and featuring top-tier keynote speakers and panelists from around the world. The conference also features a Solutions Showcase highlighting the latest products, solutions and innovations from GENBAND and its global ecosystem of technology partners. Decision makers and influencers from around the world will attend Perspectives17.
Registration is complimentary for WiC Members offering a full conference pass valued at $750.  Non-WiC members may register and join as part of the conference. For more information visit www.perspectives17.com.
About GENBAND
GENBAND empowers its global base of more than 700 customers in more than 80 countries to succeed via its technology leadership and intellectual property in network evolution and cloud based real-time communications software solutions and services. With networks increasingly moving to virtualized environments, service providers, enterprises, independent software vendors, systems integrators and developers globally are leveraging our innovative solutions for rapid communications service and application creation. GENBAND's market-leading portfolio, including its award-winning Kandy communications Platform as a Service, enables this transformation and delivers a comprehensive set of advanced embedded communications capabilities including voice, video, messaging, chat, presence and more, facilitating business, consumer and IoT solutions deployments with enhanced end-user collaboration experiences. GENBAND's Marketing Advantage Program provides comprehensive support to fuel our partners' success with our solutions. To learn more visit genband.com.
GENBAND, the GENBAND logo and icon are trademarks of GENBAND.
Company Contacts:
U.S. Press:
Dennis Watson
GENBAND
+1 (972) 521-5921
Dennis.Watson@genband.com
International Press:
Catherine Berthier
GENBAND
+1 (646) 741-1974
Catherine.Berthier@genband.com
Analysts Relations:
Michael Cooper
GENBAND
+1 (708) 383-3387
Michael.Cooper@genband.com
Women in the Channel Contact:
Khali Henderson
PR Committee Chair, WiC
Seniro Partner, BuzzTheory
+1 (480) 999-5297
pr@womeninthechannel.org