Membership Matters: Getting Uncomfortable with Keli Davis
By: Keli Davis – Director, Enterprise Channel Markets, Intelepeer
Are you standing in similar shoes to mine? Are you seeing the light at the end of your career tunnel, wondering how to finish well? Maybe you're asking these questions:
Will I leave a legacy that will provide guidance to those whose light at the end of the tunnel may be a Friday night happy hour? I realize that some of you are just starting out in your career, and just taking your first steps toward your dreams and plans. But, as women in the channel, we all share that uncomfortable feeling at some point in our work life. But, is that necessarily a bad thing?
Whether you are at the end or at the beginning of your career, I ask you to be uncomfortable. Renowned interior designer, Alrik Kondenburg, once said, "To be outstanding, get comfortable with being uncomfortable."
No, I'm not talking about that uncomfortable feeling you get when you walk into the men's restroom because the sign was just way too generic; or the unnoticed typo in the all-important presentation which makes others laugh, and you cringe. No, that is not the uncomfortable I mean. Instead, it is the discomfort you feel when you persevere through adversity, when you change your attitude to improve your life, or when you dedicate hours to improving yourself or your environment. That's uncomfortable.
Here are four points I have worked into my day-to-day life and I challenge you to try them out:
Work with all your heart, step out of your comfort zone and be uncomfortable.
Be flexible with your plans, because you really have no idea what is in store.
Consider what you want your legacy to be now. It is never too early to begin.
Encourage or nurture someone on your team, your company, or in your family – daily.
First, if you never step out of your comfort zone, you will miss the fun, success and perseverance earned from being uncomfortable.
My first manager signed me up for the mother of all Microsoft office classes – 8 hours, 17 Saturdays in a row (not to mention I had a 6 month baby at home). It was long, tiring and tedious. Feeling somewhat accomplished after this course, I was tasked to build an Access database. With 12 weeks to launch, I had to organize a national distribution channel using the skills I acquired. Next, she asked me to write a new service user manual before launching the product. After this, I created a national channel program for our organization and was asked to join the sales team – full quota, no ramp. They said because I had built the program, I shouldn't need a ramp.
During this process, I had multiple uncomfortable moments and moments of doubt. Sure, if had been rigid and refused to get out of my comfort zone, I would have limited my ability to discover new plans and grow.
Early in our careers, we may think there's a magic key in life that will answer all of our pressing questions. This key would automatically lead us to that dream role, or solve all the problems we have. It's easy to think life holds one big secret, and that when we obtain success, we'll also obtain this key capable of unlocking all of life's mysteries.
Now, I can say that it's much simpler than finding a magic key: be persistent with the tasks in front of you. Ask questions, and learn from those with experience. Finally, invest in the things you know will make you uncomfortable.
When I joined Women in the Channel, my primary goal was to network and blend in. Because I found I wasn't getting enough this way, I engaged on a deeper level. I joined committee after committee, eventually landing in the Mentorship Committee. As a mentor, I have helped women reentering the workforce connect with ladies who are able to help them meet their growth goals. In the process, I've also learned how to enhance my profile and business network from a few social media goddesses.
If you recall, I am now a fully-fledged quota-based sales person. I am constantly on calls, being challenged technically, and spend 8 or more hours a day talking. Did I mention I'm shy? Uncomfortable starts to become a good thing after a while.
Today, I manage a $5.6 M revenue base, which I doubled from last year. I am 133% to plan, and consistently make top producer month over month and year over year. Every day, I remind myself that the plans are not mine. I put my heart and soul into my role. I look to engage my customers, partners, and colleagues to learn from them and teach them in the process.
At times, it can be uncomfortable, but hopefully I leave a little something of myself behind with each person I meet. Remember the decisions made today will affect the legacy you leave behind tomorrow. Whether you are a young businessperson, or seasoned industry veteran– take charge and lead your destiny. It may be uncomfortable, but it will be worth it!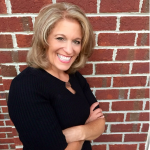 Keli Davis has been a member of WiC since inception. She has participated in the conference call committee, and today serves on the mentorship committee. Keli has over 20 years of experience in the technology, telecommunications, and cloud industry, working majorly in the channel. She currently celebrated her 5th anniversary as Director Enterprise Channel Markets with IntelePeer, where she continues to be the sole standing woman in the sales organization.