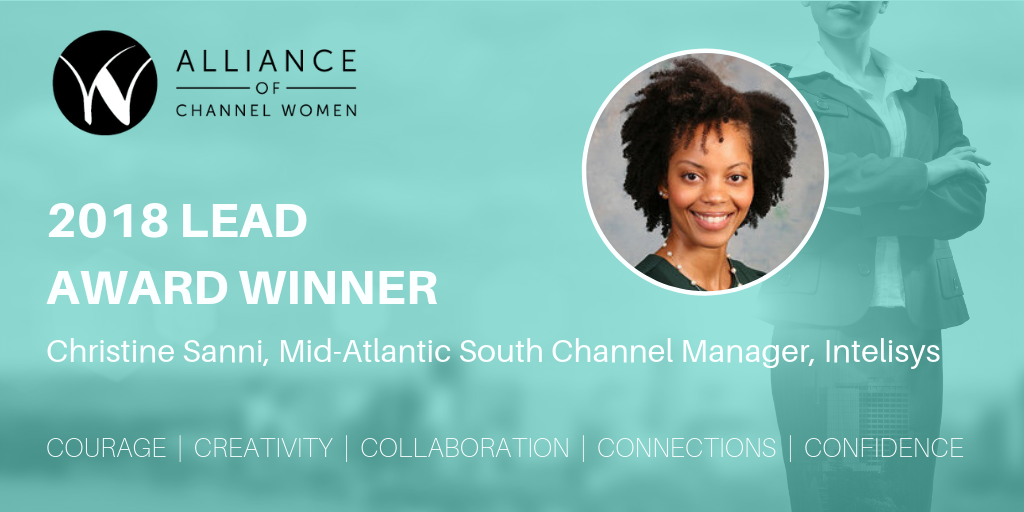 Christine Sanni, Mid-Atlantic South Channel Manager for Intelisys, was one of three women to receive the 2018 Alliance of Channel Women LEAD Award recognizing exceptional female leaders in the tech channel. ACW LEAD Award winners were honored at a ceremony during the 16th Alliance of Channel Women ACWConnectLive Event on October 9th in Philadelphia during Channel Partners Evolution.
"Alliance of Channel Women launched the LEAD Award as a way to recognize those women who showed outstanding leadership, innovation in the channel, advocacy and mentoring for others," said ACW President Stacy Conrad, Director of Channel Sales for TPx.  "We had an overwhelming group of nominees this year. Christine was nominated by her peers and voted for by the ACW Board of Directors as one of three women to receive this prestigious award. We are grateful for Chistine's continued inspiration and leadership."
A Wife, Mother, Entrepreneur, Industry Leader, Speaker, & Mentor. Those are just a few words that define Christine Sanni. Christine Sanni has over a decade committed to the tech industry and contributes her success to ensuring that her clients' needs were met, voices were heard, and solutions facilitated big picture. She has had many mentors along the way that have challenged her, inspired her and corrected her. Her determination to never give in, never give up, & never allow defeat to be her end story has pushed her to new heights. Her hope is that her transparent leadership moves the masses to achieve what most consider impossible.
Q:  Who is the woman who showed you how to lead the way (e.g., your role model)?
A: My Aunt, Judy Green. She has always been the woman that inspired me the most. I did not have an easy start to life. I experienced pain and disappointment, but whenever I heard about my aunt's accomplishments, her wins, her growth as a woman, professional, and mentor to the community, I was inspired to continue in my journey and to never give up. To this day, I still smile and am motivated to do more when I see her accept another award or attend another conference. And when I speak to her, I am reminded that life is about finding your gift, the thing that makes you the happiest, and becoming the person that is willing to give it away so that others may find their passion, healing, & meaning in life. That is true leadership.
Q:  What are you doing to lead the way for other women in the tech channel today?
A: I commit to not only being a leader, but leading with transparency. I'm very comfortable meeting people where they are. Not being a person of judgment, but of empowerment, because I too have walked in their shoes. It is often in those moments of self-doubt and uncertainty in one's professional journey that the best lessons can be learned, the most impactful experiences can be gained, and ultimately, if your choice is to never give up, new heights achieved. So, I commit to showing women and others that growth is possible and just when you think you've achieved a goal the importance of striving for something bigger.
Q:  What is one thing we could accomplish that would most benefit women in the tech channel going forward?
A: Becoming the leader that you were designed to be. Leadership is not defined by title, but how you make others feel. Despite the roles we will be handed in our careers, do we have a lasting impact on our colleagues, clients, and those we interact with daily. When we finally understand the leadership that is embedded in all of us and commit to being that leader daily, the channel will be transformed and it will no longer be about convincing a client that your solution is right for them, but simply about facilitating their growth.
About Alliance of Channel Women
Established in 2010, Alliance of Channel Women is a not-for-profit organization of women who are in leadership, ownership and revenue-generating roles in the indirect sales channel of the telecom and IT industry. ACW brings us together to empower and advance women's careers and leadership roles in the technology channel. To learn more and to become a member, please visit http://www.allianceofchannelwomen.com