Leadership Development Session to Focus on Developing Emotional Intelligence Superpowers
WASHINGTON, D.C., and SANTA ANA, Calif. – August 31, 2020 –  INCOMPAS, the internet and competitive networks association, and Alliance of Channel Women, an organization empowering women to advance their careers in telecom and IT, will co-host a leadership development workshop and networking session during The 2020 INCOMPAS Show virtual event.
The workshop, which is sponsored by SRP Telecom, will take place Monday, September 14, from 3:30 p.m. to 5 p.m. ET.  Attendees will be able to participate in the workshop via ConnectIN, the INCOMPAS Show's virtual portal.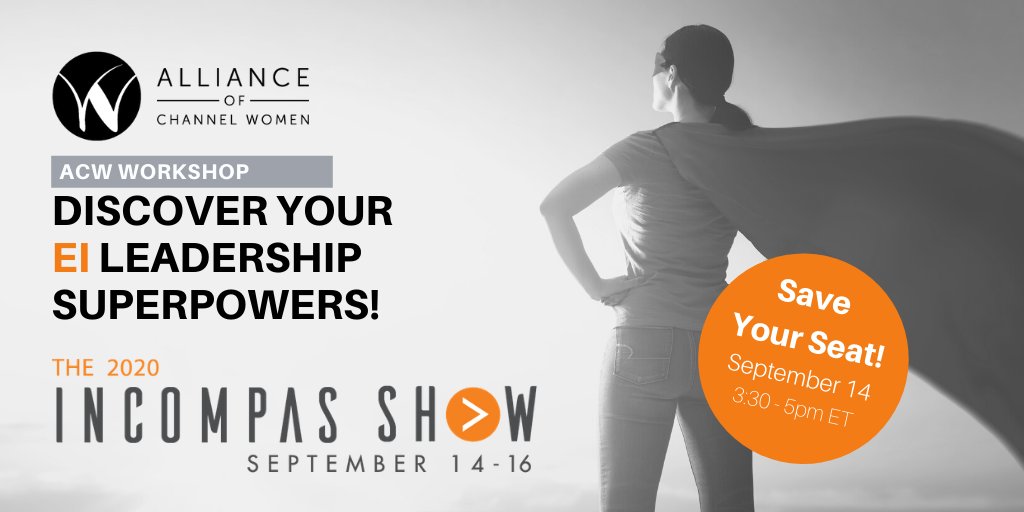 The INCOMPAS-ACW Workshop, "Discover Your Unique Emotional Intelligence (EI) Leadership Superpowers," will show attendees how to activate and amplify their emotional intelligence superpowers. The workshop will be moderated by Anne Kronenberg, chief advocate and general counsel for INCOMPAS, and will include the following speakers:
Cheryl O'Donoghue, author of "How to Be an Emotionally Intelligent Leader"
Deb Ward, CEO of Televergence and past president of INCOMPAS
Nancy Ridge, founder of Ridge Innovative and co-founder of ACW
Together, these women will help attendees re-imagine and transform how they lead themselves and others during these extraordinary times while maximizing results.
Participants who register by September 4 will receive a copy of O'Donoghue's book courtesy of Televergence. The exercises in the book will be used as a guide for the workshop.
Those interested in attending the workshop must be registered for The 2020 INCOMPAS Show. Registration is cost-effective, with rates of $150 for INCOMPAS members and $195 for non-members, and enable attendees to access to ConnectIN for up to a year. ConnectIN offers robust functionality, providing attendees with all the networking and meeting tools needed to connect with existing and new business partners, customers and buyers, during and up to a year after the show.
About INCOMPAS
INCOMPAS, the internet and competitive networks association, is the leading trade group advocating for competition policy across all networks. INCOMPAS represents internet, streaming, communications and technology companies large and small, advocating for laws and policies that promote competition, innovation and economic development. Learn more at www.incompas.org or follow us on Twitter @INCOMPAS.
About Alliance of Channel Women
Founded in 2010, the Alliance of Channel Women is a not-for-profit organization of women in the indirect sales channel of the telecom and IT industry. The Alliance of Channel Women brings us together to empower and advance women's careers and leadership roles in the technology channel through education, community, advocacy and opportunities for personal growth. To learn more and to become a member, please visit https://www.allianceofchannelwomen.org.
MEDIA CONTACTS
Gail Norris, for INCOMPAS
gnorris@incompas.org
240.477.4554
Khali Henderson
BuzzTheory (for Alliance of Channel Women)
pr@allianceofchannelwomen.org
khenderson@buzztheory.com
480.999.5297