Tech Leader, Best-Selling Author and AWS VP To Share '7 Ways to Lead Through Change'
SANTA ANA, Calif., – Women in the Channel (WiC), a not-for-profit organization dedicated to accelerating the growth of female channel leaders in technology, announced today that Sandy Carter, vice president of Amazon Web Services, will deliver the keynote address at its 14th Women in the Channel WiCConnect Networking Event, from 5-8 p.m., September 25, in Austin during Channel Partners Evolution.
Carter, a leading pioneer in the digital business revolution, has been a driving force of innovation at IBM for the last decade. After a celebrated career at IBM, she's now a "newbie" at AWS. She's no stranger to change and, in fact, embraces it as an "extreme innovator." In her keynote address, Carter will share "7 Ways to Lead through Change."
Carter is the vice president of Amazon Web Services focused on enterprise workloads like Microsoft and helping companies with innovation and technology. Carter is a best-selling author, having published her fifth book, "Extreme Innovation: Three Superpowers for Purpose and Profit," built on her revolutionary research with Carnegie Mellon SV. Carter was named a Top 3 Innovation Influencer at SXSW in 2017, Top 5 Social Influencer at Social Media World in 2017, Top 4 Bot Influencer by BotsCamp in 2017, Digital Influencer in 2016 by Forbes, a Social Media Legend, Top 10 Women in Technology by CNN, and top 100 Influencer in AI, IoT, and Social Business by Onalytica.
Carter also is a believer in giving back. She is the chairman of the board of Girls in Tech. She was honored twice with the AIT United Nations Member of the Year award for helping developing countries with technology. And, she is an adviser to startups in AI, IoT and AR/VR.
"This year's Channel Partners Evolution event is focused on digital transformation, which is no small challenge for our industry, the channel and our customers. With that in mind, WiC hopes to inspire its members to seize the opportunity to lead through change," said WiC President Hilary Gadda, director of the partner program at TPx Communications. "Sandy Carter is a rock star in the tech world and an authority on innovation, making her the perfect choice to keynote WiCConnect Austin."
WiCConnect is supported by the generosity of the following companies: Channel Partners, MicroCorp, Telarus, RingCentral, AireSpring, Broadvoice, Fusion, GENBAND, Granite, iAgent Network, NetCarrier, Telstra, TPx Communications, Advantage, and vMOX.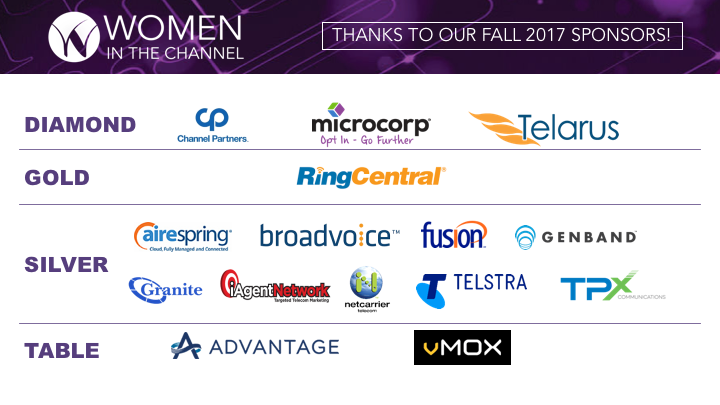 WiC's Channel Partners Evolution event planning committee includes, Chair: Raquel Wiley, TPx Communications & WiC Board; Co-Chair: Shaquille Fontenot, CNSG; Su Beler, Telecom Brokers; Laura Bella, NetCarrier; Robin Clisso, Quality Uptime; Debbie Grasso, Telestax; Khali Henderson, BuzzTheory Strategies & WiC Board; Shilo Lusson, BuzzTheory Strategies; Nancy Ridge, Telecom Brokers; Rebecca Rosen, ShoreTel & WiC Board;  Cathe Shande, Effortless Office; Neila Smith, Quality Uptime.
About Women in the Channel (WiC)
Established in 2010, Women in the Channel is a grassroots organization made up of women who are in leadership, ownership and revenue generating roles in the alternate sales channel sector of the telecommunications industry. Month after month, these women are responsible for generating sales for their companies and creating wealth for their families.  WiC members are wives and mothers and sisters, and a high percentage of us are the main breadwinners in our families. WiC brings together this group because in an industry that is growing, expanding and changing the number of women at such levels is not matching that growth.   To learn more and to become a member, please visit www.womeninthechannel.org
Media Contact:
Khali Henderson
Women in the Channel
Communications Committee Chair
Khenderson@buzztheorystrategies.com
480.999.5297