As Women in the Channel Board Member and Chair of Technology, I am excited to spread the word on a newly published playbook for professional women, Accelerate Your Impact. The book features a short interview I completed with author JJ DiGeronimo on my experience as a Board Member for Women in the Channel.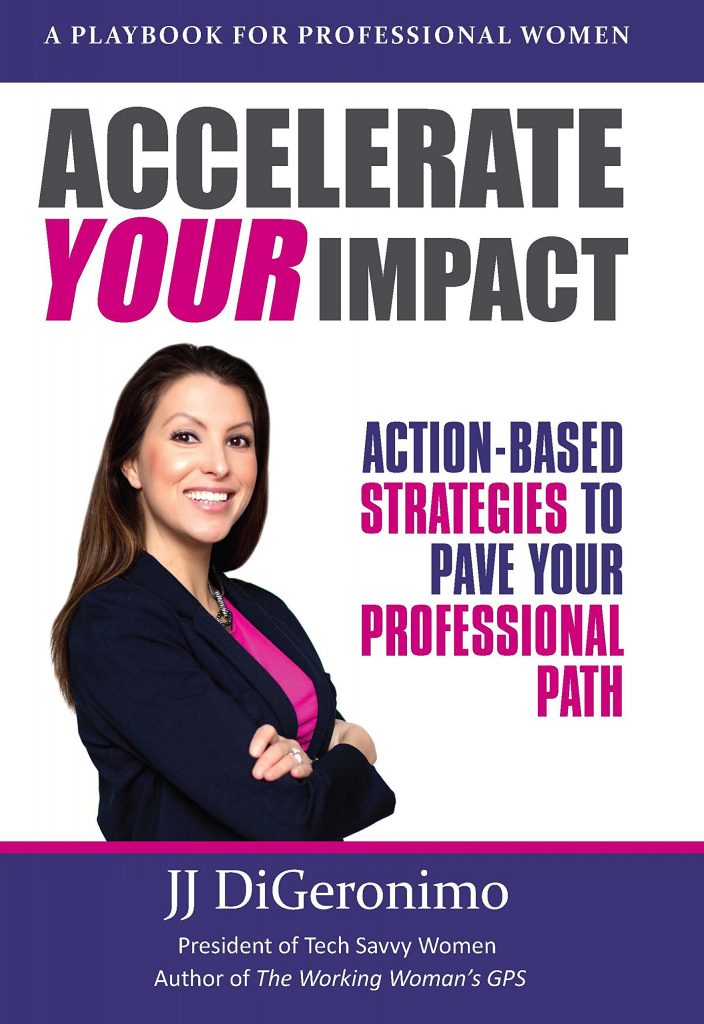 Here is a brief introduction to the book, which you can find on Amazon.com:
"Many professional women aspire to advance their career. Yet many encounter a sea of obstacles because they don't have 'the playbook' to navigate corporate cultures and organizational landscapes. With more than 20 years' experience in the tech industry, JJ DiGeronimo is no stranger to navigating the twists and turns of moving from entry-level positions to leadership. She's learned firsthand that securing that next position, a board seat or even starting a new initiative often requires women to enhance their relevance, establish new sponsors and expand their network. In Accelerate Your Impact: Action-based Strategies to Pave Your Professional Path, JJ offers a series of proven initiatives that high impact men and women leverage to accelerate their professional paths."
My contribution resides, not surprisingly, in a Chapter Eleven, Engaging Catalysts: Mentors, Sponsors, and Advisory Boards. Without giving too much away, here is an excerpt:
"I am on the board of Women in the Channel, a professional nonprofit supporting women in leadership roles in the channel sector of the telecom and data industry…. Being on the board for a nonprofit in my industry has elevated both my personal brand and my current organization's. I regularly collaborate with top leaders, which has resulted in new business partnerships and a strong professional network."
My words are joined by those from many accomplished women in tech, including the author, JJ DiGeronimo. President of Tech Savvy Women, DiGeronimo is a modern thought leader for Women in Tech and Girls in STEM. She began her 20-year career in high tech, designing data center infrastructures for Fortune 500 companies after graduating with a computer information systems degree in 1995. Her book is, really, a playbook from her experience. You will learn:
Strategies for maneuvering the professional landscape to foster future opportunities
Skills to minimize or even avoid common career pitfalls
Approaches to identify and tap into your career sponsors
Techniques to select & participate on boards
Examples and stories from those who have stumbled, fallen and succeeded
I have also gleaned some great stats on women in tech and am excited to finish the book. As I haven't completed my full review, here's what one professional in our industry has said:
"The passion JJ has for pushing women to thrive in the workplace shines through every word. So many women cannot articulate why they are 'stuck' in their career and JJ has helped with her simple focus on how our diversity and gender makes us great! Whether personal or career everyone needs to 'stretch themselves' to manifest what one desires!" – Jennifer Kirpatrick, Director, US Enterprise Flexible Consumption Models at Cisco Systems, Inc.
Big thanks to JJ DiGeronimo for her continued efforts to uplift fellow women in tech, and for the opportunity for Women in the Channel to gain some readership exposure. We are truly on the same page!
About Me
Since graduating from Carnegie Mellon University for Engineering, Nicole has led a career in engineering, project management, and web software.
Nicole now holds the title CMO at OnSIP, a cloud phone system with an award-winning reseller program. Nicole manages OnSIP's direct and channel marketing initiatives and has been quoted on Forbes.com, WomanTribune.com, ChannelPartnersOnline.com, and VoIPUsersConference.org regarding real-time communications for businesses.